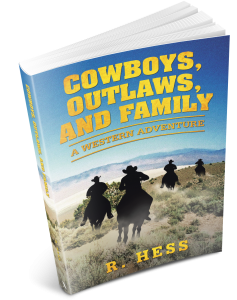 Cowboys, Outlaws, and Family
A Western Adventure
Cowboys, Outlaws, and Family, A Western Adventure brings to life the stories of the characters in her first book Second Chance, A Western Adventure; the Preston family and their bunkhouse crew.
The Preston Ranch embraces the New Year as 1900 ushers in a new decade and ends the nineteenth century. Building a new house will continue during spring roundup, and one member of the crew suffers a disastrous accident during spring branding. June finds several members of the family traveling to Portland, Oregon, and the ranch foreman takes two young cowboys to check on the herd and captures four desperadoes during their ride.
The year closes the nineteenth century with moving one thousand head of cattle to high ground to avoid flooding conditions at the ranch. The year's hard work is celebrated with New Year's Eve games, and news of an upcoming wedding in the twentieth century.